Mevalia - 7 Day Lunch Campaign
Having worked with Mevalia, a brand dedicated to providing a range of Low Protein tasty foods, since 2012, We were well placed to provide support in launching two new products into their food range.
Both the 'Pane Casereccio' and 'Chocotino' would be available from December 2017 and a creative campaign was needed to support the launch.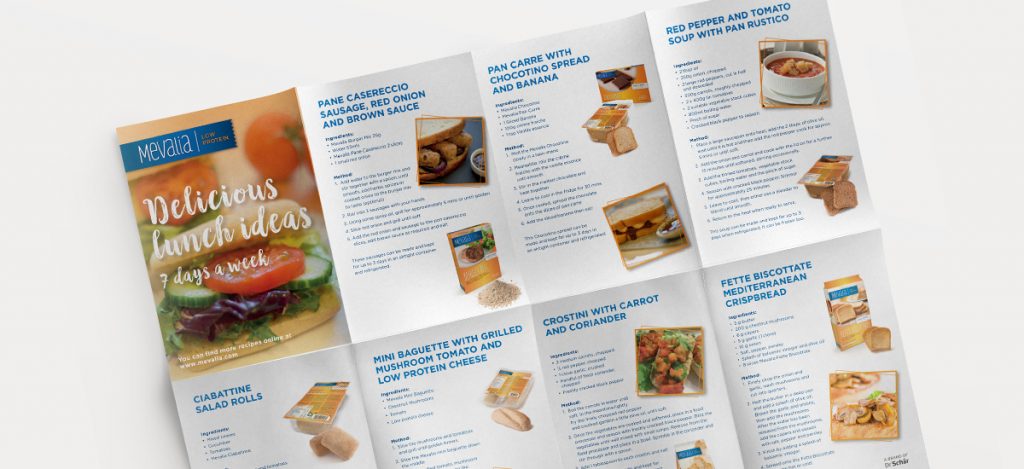 We designed an engaging mini leaflet and fridge magnet with the same key message across both:
"7-day delicious lunch ideas from Mevalia". The Fridge magnet was created to hold the recipe leaflet on a consumer's fridge as a reminder of the lunch ideas and provide them with easy access to the clients contact details.
There was also a period of Social media activity run in parallel to the 7 day meal plan. The Chocotino product was used as the focus of a series of '12 days of Christmas recipes' posts. This activity ran from 12th December until Christmas day requesting users to share festive recipes and win a Christmas treat.
We wanted Mevalia consumers to be inspired with our menu ideas and to know the possibilities when making delicious low protein lunches.
The samples were given in a FREE lunch box with a fridge magnet at events and on request via the website/Facebook. The campaign was positively received at events and Mevalia saw an uplift in product sampling requests online.
Specialisms used in this project