Digitising the Environmental Impact Assessment Process
Over the last six months, a collaborative group from Quod, Temple Group, ODI Leeds, Connected Places Catapult and Liquorice have explored how Environmental Impact Assessment (EIA) processes could be transformed through digitisation and ultimately a full digital transformation. The project, funded by an Innovate UK competition, challenged us to present what a more designed, digital and data-informed future for EIAs could hold.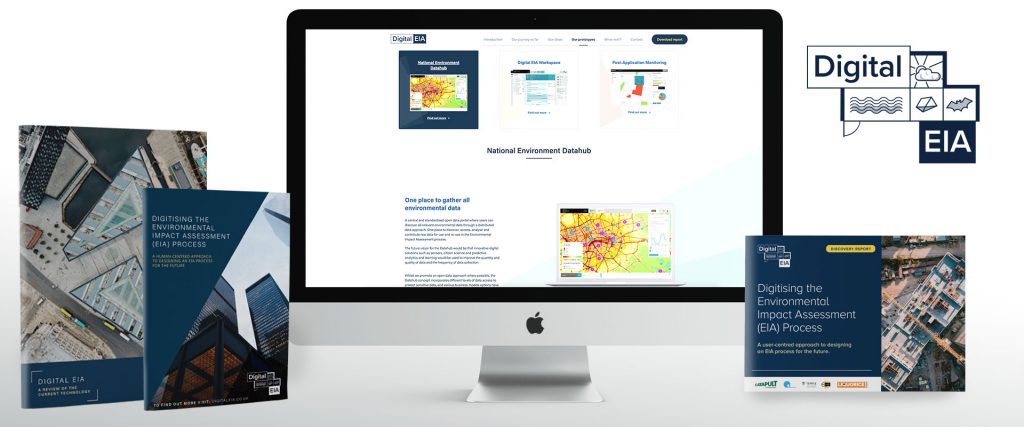 Regulated by EU/UK legislation, EIAs are a crucial part of the design evolution and approval process for major construction projects. They play an important role in ensuring that environmental and social effects of proposals are understood prior to decisions being taken, and aid in public participation in decision-making. Given the rising uncertainty surrounding climate change, and the increasing rate of natural habitat loss, EIAs have a significant role to play in helping to safeguard the environment. However, they are currently seen as a burdensome part of the planning process and are often criticised for being full of impenetrable language, and for being difficult to read and navigate.
The project's findings are the result of interviews with 45 people from organisations including the Ministry of Housing, Transport for London (TfL) and the Institute of Environmental Management & Assessment, as well as three collaborative workshops held with stakeholders. From these, key challenges and opportunities for improvement have been identified which led to the development of seven high-level ideas which aim to solve these challenges and digitally transform the EIA process.
The working group, coming from different industries, enabled new perspectives to be found, drawing on each other's skills and experiences to challenge and build better outcomes, using human centric design throughout.
Communicating the project's findings and generating further discussion in a way that is widely accessible made sure that the efforts of the last six months would be available to a wide group of interested spectators and commentators. The project website, developed to be suitable for all stakeholders - straightforward enough for members of the general public to understand, while also covering the technical detail that environmental specialists would want to see - was carefully designed in parallel with the research and the content being produced. The website is not only home to the final report, but also the paper prototypes of other areas we felt noteworthy of exploration from a digital transformation perspective.
While a launch event had been planned in London, featuring talks from key stakeholders, the event had to be postponed due to COVID-19.
We look forward to seeing what the future holds for EIAs.
Specialisms used in this project