One Stop Website
By the beginning of 2018, One Stop's existing website had begun to look tired and dated, offering visitors a poor user experience. Both its appearance and functionality didn't reflect the new direction that the Convenience Retailer has taken and needed an update. Liquorice was asked to look at the entire online service, from hosting services and Content Management System (CMS) through to design, build and SEO.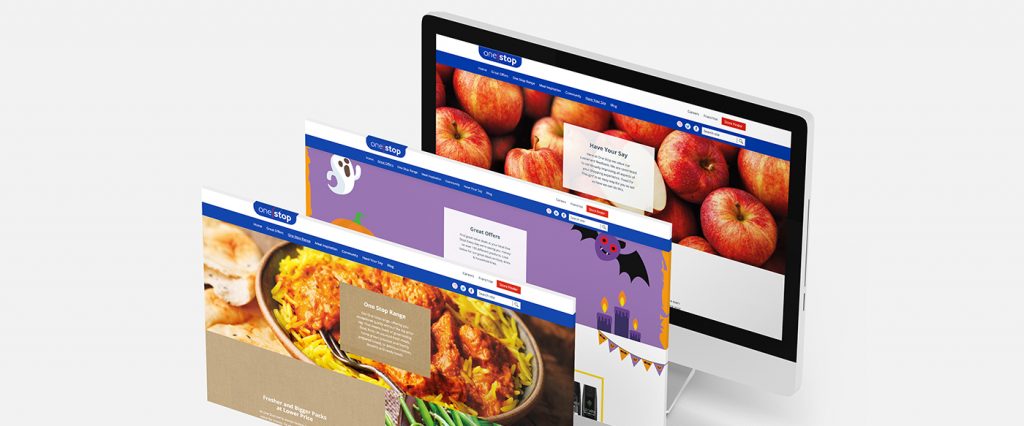 We worked alongside the marketing team and key stakeholders to ensure all areas of the business were well represented, whilst creating the best possible digital experience throughout the site, including exploring the best set up for hosting and most compatible Content Management System (CMS).
When it came to design and build, highest on the list was to ensure we used responsive design techniques and engaging content/functionality to engage our audience, together with ensuring it was optimised across the devices where it would be most viewed – in One Stop's case, that was on mobile. Also key to its success was the ability to plug into existing One Stop platforms, to be able to update or change content quickly & easily - and to reflect the constantly changing promotional activity happening in store.
A great example of the collaborative creative process with our client, we're extremely proud to have been able to develop One Stop's new site and look forward to seeing it continue to grow as a major marketing asset for the brand, as well as moving the business into a new direction.
The new site design was extremely well received, with a notable increase in site traffic right from the 'go live' date. Online is an extremely important channel for One Stop to connect with their customers and the new platform has allowed the site to evolve and deliver the best digital user experience for the immediate future.
Specialisms used in this project