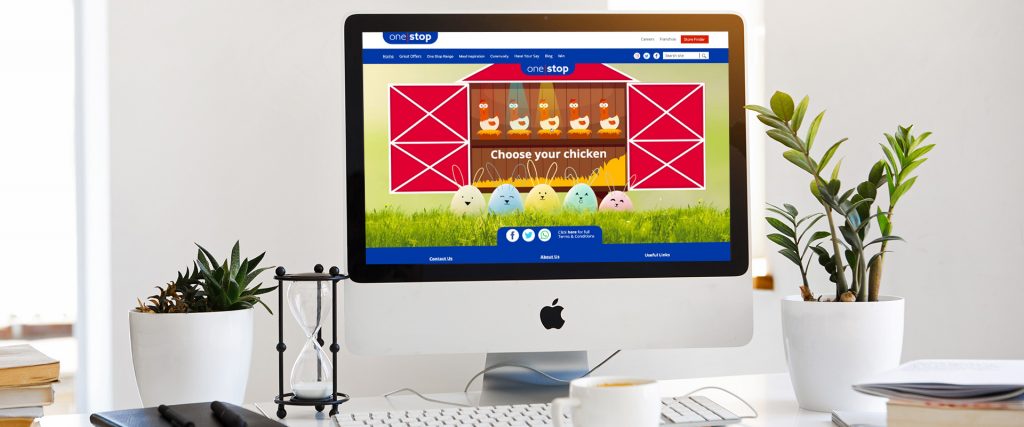 From initial concept through to development, we designed and launched Rule the Roost – an online interactive game which ran from 26th March to 22nd April.
Set in a lovely Easter-style hen roost, the game featured five chickens sitting in a row of nests. Players were required to select which chicken they thought would be next to lay an egg. Once selected, an Easter basket moved beneath their chosen chicken to catch the egg as it fell.
With a tiered prize system offering more than 2,000 prizes, players had three chances a day to select the correct chicken and Rule the Roost. Clucky winners received an email with a barcode which could be used in their local store to redeem real Easter eggs – either a packet of Cadbury's Mini Eggs or a Medium Smarties Easter Egg. There was even an iPad up for grabs.
The campaign was supported by a media plan targeting One Stop customers, with social media ads targeting users living within 1km of One Stop stores running throughout the campaign.
We also set up a live dashboard using Google Data Studio to allow data to be viewed in real time for the duration of the game.
The game exceeded all expectations - in just 24 hours, we saw over 50,000 game plays and a 400% increase in website page views.
The supporting Facebook ads also saw click-thru rates which were 2,471% higher than the 0.112% expected (Ad Sense, 2018).
The game achieved 177,345 sessions, with a total ad reach of 3.6 million and gained traction in retail press
We look forward to working on the next engagement campaign for One Stop.