One Stop Paid Social Media Test & Learn Programme
One Stop identified that a large proportion of its customers engaged with the brand through social channels on mobile, in particular via Facebook. Following an initial proof of concept test focusing on promotional offers that we ran, One Stop saw a significant increase in sales uplift as a direct result of this increased social media activity.
The One Stop brand team were keen to explore this opportunity further and so engaged Liquorice to develop a larger piece of testing work that would explore a broader set of paid social tests with a view to understand which elements would drive the greatest engagement with consumers on Facebook, but ultimately drive footfall into the local One Stop convenience store.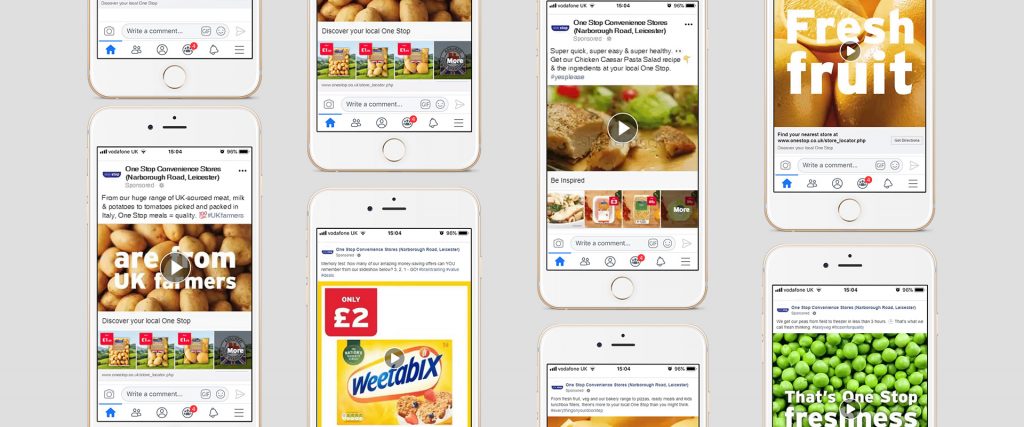 Building on the learnings from our original piece of work we developed a larger test plan that explored all the different areas that might drive customer engagement with the One Stop brand. These elements were taken from elements of One Stop's core brand strategy through to key promotional footfall driving messages.
Our initial test had already given us a greater understanding of which ad formats had performed well. With the larger programme we developed a more comprehensive test and learn structure, enabling us to explore and compare performance of alternative formats to identify the strongest means of communication.
By running the activity alongside a control cell and linking to in-store sales activity across 200 test stores we were able to identify very accurately the commercial value of the test campaign. Utilising support from the One Stop finance team a ROAS methodology was developed to enable us to understand which paid social activity creates the greatest impact.
We ran 8 campaigns using 32 individual ads which reached 8.6m people and gathered 18.6m impressions. Campaign click through rate achieved an average 127% higher than the average for Facebook ad campaigns in 2018 , however while the click is indicative, what we saw was a significant uplift in transactions in store
The overarching findings of the activity have helped us to clearly establish which areas of communication were of most interest to customers (and therefore of most value to One Stop), helping to define and focus future social activity.
Specialisms used in this project