Midland Fertility - Donor Campaign
Leading UK Fertility Clinic, Midland Fertility, operated donor treatment service which co-ordinated available donor sperm, eggs and embryos with patients looking to conceive. However, a national shortage of donor sperm in the UK had began to create a crisis for the service. Midland Fertility required a campaign that could attract potential sperm and egg donors to alleviate the situation.
We developed a campaign that was tied together by a simple message – 'It feels great to donate'. This purposely targeted the campaign at altruistic donors but could easily apply itself to different creative routes which would be used to appeal to male and female donors.
The creative targeting sperm donors played on the concept of donors as heroes – using a striking image of a man tearing open his shirt to reveal the message 'It feels great to donate' on his chest. This creative was underpinned by a powerful call to action 'Be a hero. Donate your sperm.'
At the same time, separate creative was used to target egg donors. This showed two women back to back, in a near mirror image, one of whom is pregnant. This emotive imagery helped to convey the transformation that donors can have in patients' lives.
The campaign was delivered across press ads, social media, billboards and bus stops.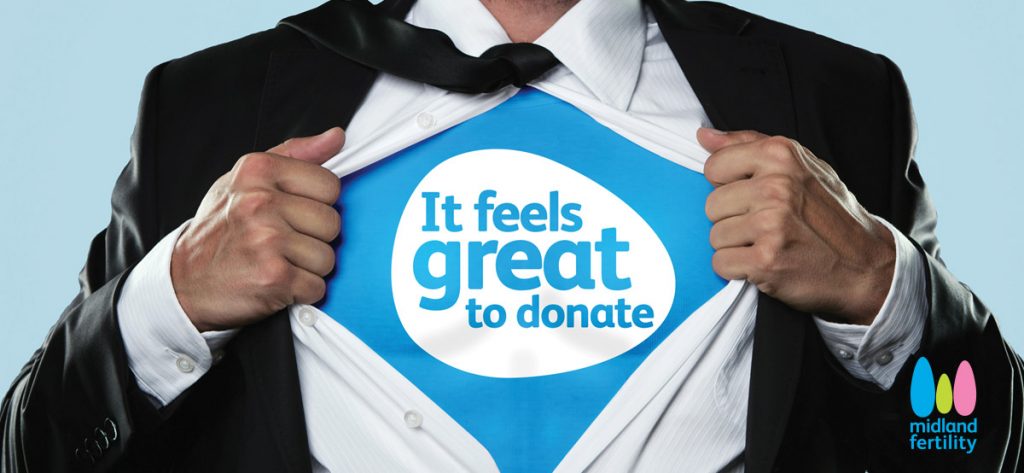 The campaign had a significant impact on Midland Fertility's donor numbers as the number of new enquiries spiked following the roll out of ads.
Specialisms used in this project