One Stop POS Refresh
Tesco owned convenience retailer, One Stop, came to us with a brief to review its in-store POS materials and improve the overall shopper experience. They were looking to create a more compelling journey through the store, which would engage their customers and help them easily and successfully navigate the product range.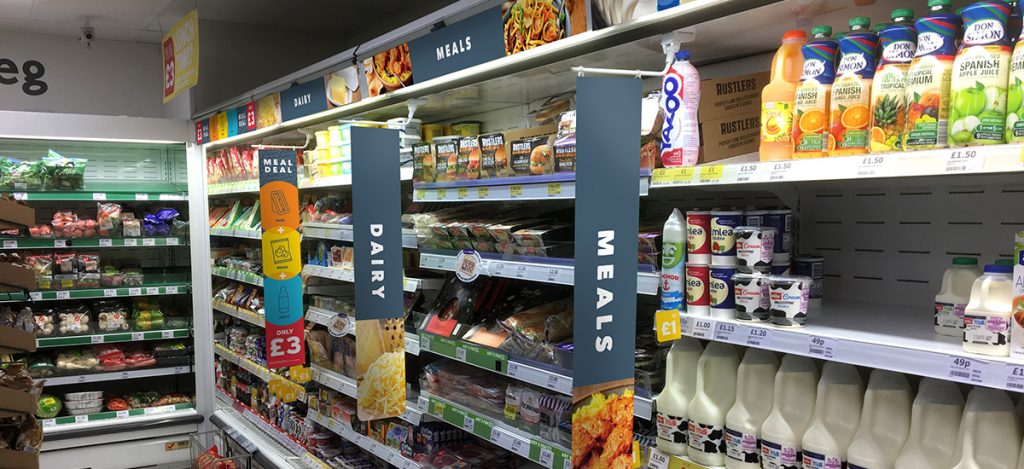 We began with an intensive period of remote and in-store research to understand the customer's experience, including how POS materials were currently being used, the impact of mis-placed materials, successes and failures of product positioning, ease of navigation and use of cross selling/up-selling opportunities along the shopper's journey.
Then we deconstructed the existing point of sale materials, stripping out any irrelevant information and making the communication as simple and easy to understand as possible, utilising the insights from our initial research. We created our solutions taking into account our customer profile and their shopper mission, using signposting, colour, texture, font and format to create a clear, easy to navigate journey through the store.
The finished creative introduced a charcoal grey across much of the in-store materials, ensuring products (including the brand new One Stop Own Label range) would really stand out against the colourful array of competitor products, making them easy to shop. Similarly, offers, meal deals and the fresh range were assigned a new colour to make them easily identifiable in store. To further improve the navigability of the store, a set of graphic icons were introduced for each product category.
New product photography was commissioned to bring life to the POS materials. Images of prepared meals convey a sense of realism and human interaction to inspire customers to create their own tasty meals – meals that can be created for a great price, and available just around the corner from One Stop. Elsewhere, images of crisp, unadulterated ingredients communicate the freshness and quality of the range.
One Stop stores across the country now benefit from clearer signposting and improved opportunities for up-selling, cross-selling and impulse purchase, particularly for own label products. Customers now benefit from greater ease of navigation through their local store, with coloured signage helping them to comfortably browse the various product categories.
Specialisms used in this project